Presents for women who love fishing – Reviews and Comparison
Finding the ideal gift for a woman who appreciates angling just as much as a man can be a challenging task to complete successfully. In part because the market is swamped with possibilities, it's a good idea to start by thinking about the specific requirements of the person you're aiming to impress before making any decisions. You should make sure the gift is either humorous or useful to the recipient. Both of these approaches have the potential to be fruitful in their respective circumstances.
12 Best Fishing Gifts for Women (Reviews) in 2021
We've compiled a list of some of the most popular alternatives we could find in order to make it a little easier for you to decide what type of product you need to buy. You'll find a variety of fishing accessories listed below that will come in handy at any moment.
1. Deeper PRO+ Smart Sonar GPS Portable Wireless 
It's no wonder that the Deeper model is one of the most popular fish finders on the market right now, especially given the features it offers. Wireless and portable, it is compatible with both the Android and the iOS operating systems. This means that female anglers will be able to use their own tablets and smartphones to monitor what's occurring on the water, which is a significant advantage.
Deeper fish finders are available in a variety of configurations these days. This specific model is most effective when used for shore and ice fishing. The unique feature of this product is that it allows you to choose between traditional sonar viewing capabilities and seeing possible captures as arches, similar to how one would do so with a regular fish finder.
As long as the water depth does not exceed 260 feet, or if the transducer is not used below this depth, one can get the most out of the Deeper Smart.
Buy from Amazon.com for ($200.27)
2. Fishing Electronic Weighing Scales
Despite the fact that it is one of the most reasonably priced products in this category, this fishing balance is also one of the most convenient solutions available. It operates on two AAA batteries, ensuring that the angler will always be able to provide power to the apparatus. The scale's capacity of 110lb/50kg, combined with an accuracy of 5 to 10g, allows it to be utilized for a wide range of catches and equipment that requires weighing.
Another feature that makes this balance stand out from the crowd of fishing presents is that it includes a built-in tape measure, which helps fishermen to keep track of their catches while they're out fishing. The fact of the issue is that, when it comes to the situations in which this technology can be utilized, there are no restrictions on its application.
Another advantage of this product is that it has a stainless steel hook in the back slot, making it a highly robust option. The electronic panel that displays the weight is the only component that requires electricity.
Buy from Amazon.com for ($11.99)
3. Sak Gear DrySak Waterproof Dry Bag | 20L DigiCamo
It goes without saying that every angler, whether he or she is a man or a woman, requires a backpack or a bag in which to store many goods that should not be exposed to the elements. Your sandwich, like many other foods, can suffer from water-related mishaps every now and then.
This unit is an all-weather bag that is constructed of 500-denier polyester and coated with vinyl to ensure that neither the elements nor the occasional splash will be able to penetrate its structure. You may store anything from your ID to your keys in this bag, and you shouldn't be concerned about anything because it will not enable your smartphone or other electronic gadgets to be destroyed in the process.
Ten-liter and twenty-liter versions of this bag are available for purchase. If you believe that the fisherwoman for whom you are purchasing a gift will benefit from this device, we recommend that you give it a test run before purchasing it. After all, the 10-liter option is frequently available for less than twenty-five dollars.
Buy from Amazon.com for ($26.95)
4. LC-dolida Fishing Hat 360 UV Protection Sun Hat
The best part about this fishing hat is that it can be customized to your liking. It can be worn as a traditional sun visor cap, but it can also be adjusted in such a way that it provides complete coverage for the angler's face and neck.
In accordance with the information that we have gathered about it, this product provides UPF 50+ protection, making it one of the best choices if the woman to whom you are presenting the gift enjoys serious summer fishing. This type is made of a quick-drying fabric, which means that it will not leave the user feeling saturated for an extended period of time after use.
In addition, despite the fact that it covers the majority of the angler's face, it will provide plenty of ventilation. As far as adaptability goes, there's no disputing that this option is a winner because it can be used for a variety of activities and in a variety of settings.
Click to see the price on Amazon!
5. Anglatech Fly Fishing Backpack Vest Combo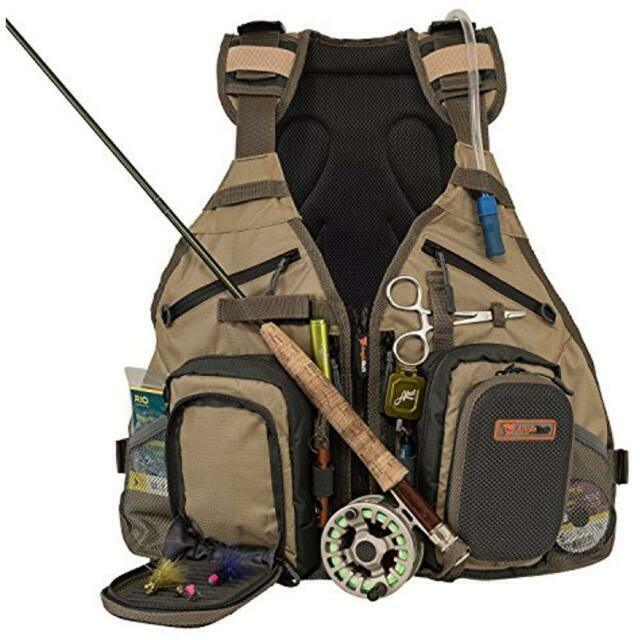 The best gifts you can offer someone who enjoys fishing are fishing backpacks, which are among of the most practical items you can buy. It is not designed like a standard model, which means that it is actually a vest that has various pockets for storing tackle, fishing tools, pliers, a knife, and anything else that might be necessary in certain scenarios. It is available in black or blue.
Unlike some of the other backpacks we've seen, this one is also equipped with a 1.5-liter water bladder, which will allow the fisherwoman to stay hydrated at all times while on the water. A permeable mesh back allows air to flow easily through the device, ensuring that the angler remains dry and cool while fishing.
Because the amount of storage space provided by this backpack is extensible, it can be used to transport rain jackets or lunches, for example. The vast majority of anglers who have purchased this vest have stated that it is a terrific and comfortable garment.
Buy from Amazon.com for ($69.95)
6. Sunyear Lightweight and Foldable Camp Chair
Standing in the water for hours on end with the hope of catching something isn't really enjoyable, especially if the sun is blazing brightly in the sky. In those cases, we recommend this fishing chair, which we believe is one of the most comfortable and convenient options available on the market at the time of writing. Because it is composed of nylon, it is certain to survive the test of time and use.
A comfortable resting position will be provided for the angler by its distinctive design, since the seat is far larger than that of many other similar models. At under two pounds, the device is both lightweight and incredibly portable, making it a great choice for travel.
Furthermore, because its basic structure is made of a 7075 aviation aluminum alloy, it is guaranteed to hold up to 250 pounds, which is the maximum weight capacity of the product. You can fold it up and have it ready to go in under a minute.
Buy from Amazon.com for ($38.99)
7. Plusinno 16pcs Fishing Lure Spinnerbait Kit
Getting a set of lures for a fisherman or a female angler is unquestionably one of the best gifts you can give them. Artificial baits have a tendency to get disorganized, whether at the fishing location or when one is attempting to keep track of them at one's house. That is why lures are one of the nicest gifts that you can give to an angler.
This particular set has as many as sixteen spinner lures, all of which are conveniently packaged in a carry bag. Although they produce the finest results when fished for bass and trout, their design does not preclude the gift receiver from using them on other species as well if he or she so desires.
The lures are built of high-quality materials and are vividly colored in order to capture the attention of any potential catch as much as they possibly can. Despite the fact that it is a budget-friendly gift, this lure set is sure to impress any fisherwoman who receives it. You can't go wrong with them, whether you're buying them for a friend or for that important someone in your life.
Buy from Amazon.com for ($16.99)
8. Flying Fisherman San Jose Polarized Sunglasses
When you and your fishing mates wish to go out angling on a particularly sunny day, it is imperative that you wear appropriate skin and eye protection. This pair of sunglasses, like the chair that we mentioned before in this pick, can assure both the safety and the comfort of the female angler for several hours of enjoyable fishing.
What's particularly appealing about these glasses is that they have polarized lenses, which means that the wearer will be able to see prospective catches even when they're submerged underwater. Having to cope with glare when at the fishing spot is one of the most inconvenient aspects of the job.
Using this solution, you may significantly minimize eye fatigue and eliminate glare completely. According to the manufacturer, these sunglasses provide 100 percent UVA and UVB protection, so that's something to keep in mind as well. A one-year warranty is provided on these items.
Buy from Amazon.com for ($17.05)
9. Great Arrivals Birthday Fishing Gift Basket, Gone Fishing
If you're completely stumped for ideas, a gift basket is often a good alternative. Sure, it may be less creative or useful than some of the other items on this list, especially when compared to some of the other stuff on this list that we have highlighted. Nonetheless, this particular one comes with a slew of interesting extras to enjoy.
The fishing themed photo frame and the cup with a fishing message, for example, are both functional gifts, but the collection also includes other items that are more or less decorative, such as a fishing hook and bobber set and a mug engraved with a fishing message.
Despite the fact that the product is primarily targeted towards men, female anglers will find it to be extremely beneficial. Who could blame them for savoring the nuts, pretzels, sea salted chips, and seafood spice that can be found within the basket? After all of these items have been collected, the tin bucket where they were collected can be used for storing purposes.
Click to see the price on Amazon!
10. Real Girls Fish Graphic T-Shirt
Just as we mentioned at the outset of the essay, it is possible to divide these gifts into two groups at times. In the case of the first item, the purpose is very obvious, as many such products are intended for a certain pursuit. Others, on the other hand, such as those who wear this t-shirt, are concerned about delivering a message.
This product is made of a blend of cotton and polyester, with the exception of the solid color designs, which are made entirely of cotton. User can either clean the product with cold water or with the help of low-heat settings on the washing machine, depending on which one they want to utilize.
Finally, if you're out of ideas and don't want to spend a lot of money on a nice-looking gift for your female fishing friend, this model can be a good option for you to consider. It is available in a variety of sizes, allowing you to select the one that is most appropriate for the individual.
11. Largemouth Bass Pull Light
When it comes to fishing, nothing says it better than a ceiling fan that has been molded and painted to look like a largemouth bass. This one, by the way, is entertaining and simple to put together, plus it has been hand-painted. It can be attached to the fan pull chain that is already installed on the ceiling, which means that the receiver will see it on a regular basis. This is one of the most thoughtful aspects of this sort of gift.
Because the chain is 12 inches in length, it must be installed either lower or higher than the existing chain, depending on the length of the existing chain. The same company also offers a variety of other options, including one shaped like a trout and another styled like a fishing bobber, among others.
The visuals on this product, according to several customers who were kind enough to offer their comments about it, are great, and the fish genuinely resembles a real bass. Gifts in this category are excellent choices for both men and women.
Buy from Amazon.com for ($8.98)
12. BigMouth Inc. Mug
The Gone Fishin' Mug is immensely popular among male fishermen, so why shouldn't it be equally popular with female fishermen? Even though it's in the shape of a nice-looking bobber, the fact that it's made of high-quality porcelain means that it's a perfectly acceptable coffee cup in every way.
It has a capacity of up to 20 ounces of the angler's preferred beverage. One of the most interesting aspects about it is that it does not become soiled when used with tea. It's also rather simple to clean, though we haven't been able to find any information on whether or not it can be put in the dishwasher. However, due to the fact that it does not contain any parts made of plastic or that could melt due to the high temperature of the water used by a dishwasher, it is fair to assume that it can be used in conjunction with a dishwasher.
A terrific gift for Christmas or even an angler's birthday, according to the vast majority of individuals who have purchased this device. This mug will undoubtedly become a favorite of the woman who is infatuated with fishing, and she will undoubtedly use it on a regular basis.
Charles Reynolds is an engineer from New York University with a passion for fishing. His earliest memories of fishing go back to the days spent on the lake with his grandfather who taught him the sport. Reynolds spends a large part of his holidays fishing with his son and passing on the skills to the little one.